For the second installment of Poetry Wednesdays, here's Tacloban-based Waray poet Voltaire Oyzon, reading "Gab-i."
Voltaire is also one of the minds behind the Corpora Project, a database of texts in various languages. It's purpose is to preserve language and provide structural analysis that can be used to classify texts according to comprehension level for use in mother tongue-based multilingual education (MTBMLE). Check it out at http://corporaproject.org/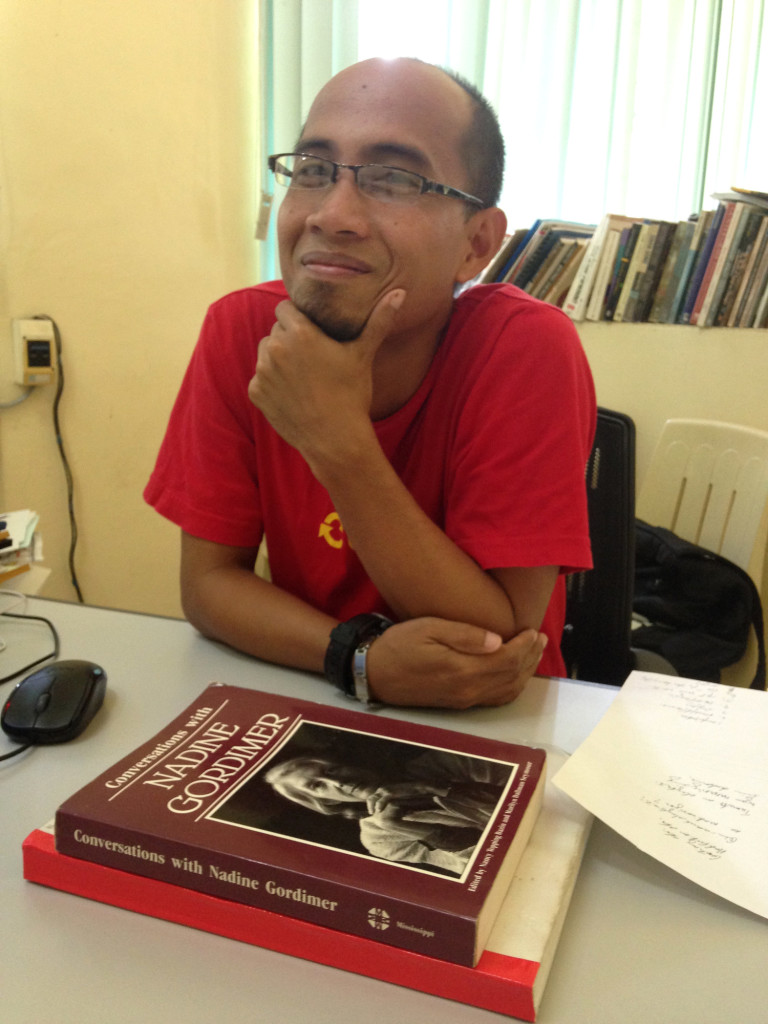 Nagkikinain-kain ka ngani
nga pirmi ka man nasisidman?
Naabot ka kun nakakalakat na
iton lamrag.
Kapoy ka pirmi
kay ha pag-abot mo
nagdudulom iton kalarakan,
an mga bituon daw mga sada nga tak-om,
an mga hinimo han Makagarahom
natikang maghuring-huring
ha ira mga himangraw.
Pagal ka gad nga duro
hiton imo sudoy
kay ha imo pagkakaturog
naturo iton imo laway
ngada hiton mga dahon.
Hahapuhapon ko iton imo bungkog.
Papakaturogon ko ikaw
tubtob nga umabot an
tigaman—an pangunat han sulhog
han sidlangan
imo na liwat ako
babayaan.
— Voltaire Oyzon
– – – – – – – – – – – – –
Night
Translated from Waray by Dante A. Rosales
Where have you been going to
that the darkness constantly catches up with you?
You show up when daylight
has faded out.
You are always exhausted
because when you arrive
the sky gets heavy dark,
the stars look like closed doors,
and the creatures of God
start to whisper
in their conversations.
You must be truly tired
from your meandering
because in your sleep
your saliva dripped
down to the leaves.
I will soothe your weariness
with my caress,
and lull you to sleep
until the sign appears—
the rays of light stretching
from the east.
And you will leave me,
all by my lonesome, again.
— Voltaire Oyzon